Review and Expert's Opinion
SpyOFF
Ranked 27 from 55 VPNs
3.6

Features

Ease of Use

Support

Pricing

Pricing
1 Month @ $12.99/month
6 Month @ $10.99/month
16 Month @ $5.89/month
No of. VPN Locations
40 Countries with 1007+ Servers
I will highly recommend you to use the VPN Service by SpyOff, with so many amazing features, it is a must have a VPN for everyone
Overview

Introduction
The Internet has been the most excellent way of connecting the world and making our world a small place. Often the Internet is the host to thousands of blocked sites, proxy servers, and localized websites which is only accessible with the help of a VPN service.
Start Your 14 Day Free Trial
In this article today we have the good fortune to review one such VPN service by SpyOff, and we will look at what it has to offer.
SpyOFF is headquartered in San Marino and is a company under Sareta S.R.I. Their chief purpose is to shield as many people as possible from ISN throttling and administrative control, censorship, and surveillance.
They believe that privacy and online anonymity is an incontestable human right and to achieve this goal they have internationally distributed a team of experts. They strive hard every day to meet the client's requirements and protect each of them from internet violations.
Features
Unlimited access to a million of protected websites and services.
Kill Switch to provide additional protection.
Secure etiquette for every user when surfing online.
A VPN service available for every device.
Unlimited data volume over high-speed servers worldwide.
An unlimited number of server changes is possible with SpyOff.
SpyOff keeps no logs of your browsing history.
Often leak tests are carried out by the VPN service to prevent your IP from getting public.
Pricing
The pricing for SpyOff VPN is comparatively on the lower side.
For a monthly subscription, the charge is $12.99.
For sixteen months the charge is $89.60.
For a six month of VPN subscription from SpyOff, the charge is $65.94.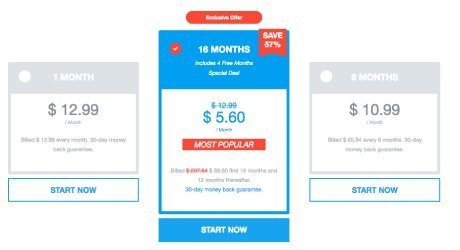 Pricing

Plan Name

Bandwidth

No. of
Devices

Price

1 Month

Unlimited

1

$12.99/month

16 Months

Unlimited

1

$5.83/months

6 Months

Unlimited

1

$10.96/month
Pros & Cons

Pros
1007+ servers over 40 countries
Amazing speed
No data logging
Unlimited simultaneous connections
Cons
More About SpyOFF

Apps and Compatibility of SpyOff VPN
SpyOff hosts compatibility for several platforms like any other VPN, let us have a look at all the applications they have for various platforms.
PlayStore: For an Android user the interface is smooth and crisp, and SpyOff has intelligently crafted all the features inside the application.
iOS: For an iPhone user this VPN service is a must try as the application is optimized in a way to maximize the networking potential the VPN is capable of.
Windows: The desktop application for personal computers is great as well.
MacOS: Macbook and iMac users are also open to avail SpyOff VPN as the application for MacOS is simply amazing.
Linux: SpyOff has a VPN for Linux users as well, unlike any other VPN service provider.
Above all the Chrome Plugin is there to take you to a more open internet, anywhere anytime.
Benefits of SpyOff VPN
It improves your security online.
Remote access is safer and private while using SpyOff VPN.
Your anonymity is the prime concern.
DNS-leak Test
Every moment you enter a URL in your browser, such as
Spyoff
, your network sends a request to a so-called "DNS server". A DNS server is a record of which address concerns to which IP. Similar to a phone directory. The DNS server then gives the number of the server entertaining the website to your network. Your network then connects to this address.
Of course, within these calls, the DNS server knows precisely which pages you desire to visit or which websites you use. Now if the driver of your DNS server collects your requests, it has a very detailed record of your surfing habits including your private IP address.
To prevent this from happening a DNS leak test is a must for everyone.
WebRTC Leak Test
WebRTC, or Web Real-Time Communication, is a technology that facilitates real-time interaction with Javascript APIs in your web browser, without supplementary software. As an open-source framework, which is supported by Mozilla and Google, among others, WebRTC performs as a secure interface foundation for video chats, voice calls or file sharing via web apps. WebRTC, when connected with the web conferencing server and the STUN server, implements the starting page and ensures the synchronization of the bond between the endpoints.
A WebRTC leak test tells you if your web browser has such a difficulty. However, it is very possible that you will have these difficulties without proper forethoughts, as all current browsers use WebRTC by default.
VPN Routers
SpyoOff also provides VPN support for your router so that all the users of the same network experiences a more open and secure internet.
What is a VPN and why will you need?
Before answering this question directly, it is safe to say the World Wide Web is full of data that runs through several hands. Each of these hands is a possible risk to your privacy.
The VPN or "Virtual Private Network" technology builds an encrypted link among different endpoints. These may involve routers, servers, computers, smartphones or any other Internet-enabled device. This connection is more or less safe depending on the rules used. Since the link between the devices is secure and nobody can reach it from an external source, it is called a "virtual private network" within a public network.
You will require a VPN service to access a website more privately and also witness thousands of sites that have regulated access due to several reasons open right in front of your eyes.
Our Take
In a world where the internet is keeping every one of us connected, the use of VPN service is rising in numbers. Choose wisely and if you are going with SpyOff, rest assured you will not be disappointed.
Comparision

How does SpyOFF match up to the competition?
Looking for Alternatives? Read these reviews