Review and Expert's Opinion
Hola VPN
Ranked 4 from 55 VPNs
4.71

Features

Ease of Use

Support

Pricing

Pricing
1 Month Ultra Advanced Plan @ $14.99/month
3 Years Premium Plan @ $7.99/month
3 Years Ultra Advanced Plan @ $2.99/month
No of. VPN Locations
Thousand of Servers with Millions of IPs accross 190 Countries
If you are looking for a FREE VPN to watch geo-restricted streaming services, or play a game blocked in your country look no further than Hola VPN. This popular VPN service provider has it all and it's for FREE. Read along to find out why Hola is used by more than 228 million users all over the world in this cutthroat VPN market.
Overview

Introduction
Hola VPN was launched in 2012 by the Israel-based Hola Networks Ltd. From the time it was launched it has amassed over 228 million users and is going strong. One of the reasons for gaining such popularity is that it's the first peer-to-peer VPN service provider. Hola is not your conventional VPN with actual servers across the globe. In spite of that, it's the most used VPN service provider. Hola can be used for Free as well as its Premium service with added benefits of unlimited data and high-security standards.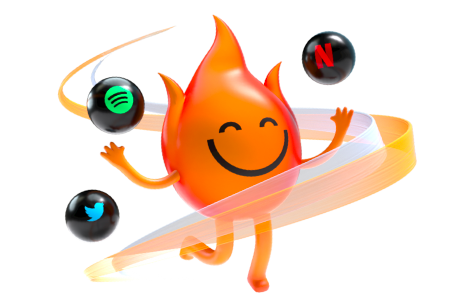 Get Started
Features
Here are its features that make it distinct in the vast VPN market:
Thousand of Servers with millions of IPs
Choose IPs from 190 countries
Community Powered VPN
Unrestricted browsing experience
Easy to install App
High-speed VPN
VPN Extension for top four Browsers
Access to geo-restricted streaming services and games
The app is translated in over 30 different languages
Free VPN
Additional Features
Hola's compatibility with devices
Hola works on a variety of platforms which makes it one of the reasons it is so popular. The devices it is compatible with are Android, iOS, Windows, MacOS, Huawei, Xbox, Play Station, Consoles, Routers, Apple TV, Fire TV, and Smart TVs.
Other than the app for devices it also offers a Web Extension for the four popular Browsers which are Chrome, Firefox, Opera, Linux, and Microsoft Edge.
What makes Hola different?
Hola VPN is not your regular VPN, here are some of the features that make it different with over 228 million users worldwide.
Community Powered VPN
Hola Free VPN is a community-powered (peer-to-peer) VPN that uses the ideal resources of its users to route your traffic in the Hola VPN Network as opposed to using traditional servers like other service providers. Hola uses this technology as it provides its users superior VPN service while making it harder to detect and block. The paid subscriptions are routed through servers only like.
As it uses a peer-to-peer network shared between users, the user gets access to servers in almost all countries. In case, you do not wish to be used as a peer you can always upgrade to their Premium plan which has a dedicated server network, security features, and higher speeds, more simultaneous connections, and unlimited bandwidth.
Pricing
Hola VPN offers a FREE PLAN which comes with a daily limit on data, connection for 1 device, and only 500 server connections worldwide.
It offers two premium plan which offers advanced features these are,
1. Hola Premium Unlimited VPN offers Unlimited bandwidth, security encryption, no-log policy, 10 simultaneous connections, HD video streaming, email customer support, 1000+ worldwide fast servers. Which is billed as
1 Month $14.99/month
1 Year $7.69/month
3 Years $2.99/month
2. Hola Ultra Advanced VPN offers Unlimited bandwidth, best security encryption, no-log policy, Smart DNS 20 simultaneous connections, 4K video streaming, 24/7 email customer support, 1500+ worldwide fast servers. Which is billed as
1 Year $19.99/month
3 Years $7.99/month

Pricing

Plan Name

Bandwidth

No. of
Devices

Price

3 Years Premium Plan

Unlimited

10

$2.99/month

1 Year Ultra Advanced Plan

Unlimited

20

$19.99/months

3 Years Ultra Advanced Plan

Unlimited

20

$7.99/month
Pros & Cons

Pros
A vast number of nodes worldwide
Unblocks Netflix, BBC iPlayer, HBO Max+, Disney+, Hulu, Amazon Prime
Fast speeds
Streams 4K video
Free VPN service
Cons
Limited Bandwidth for Free Plan
Shares your bandwidth and IP(For Free version)
Logs your data(For Free version users to avoid abuse)
More About Hola VPN

Payment methods
You can pay with all the major Credit Cards, PayPal, and Google Pay.
Customer Support
Hola offers a detailed Help Centre which covers all the queries or you can contact them through their customer support email id.
Money Back Guarantee
All their plans are backed by their 30 days money-back guarantee.
Our Take
If your main purpose of using a VPN provider is to get your hands on geo-restricted streaming services, games, and websites then Hola is highly recommended. Having said that the Free version does not offer any safety and security which is a must in any VPN. The premium version does offer security but it falls short as you are still using shared IP. All over you can use Hola for streaming but anything other than that is a big NO.
Comparision

How does Hola VPN match up to the competition?
Looking for Alternatives? Read these reviews