Smartproxy is a premium rotating residential IP proxy provider that keeps on growing. It offers cheap and reliable residential proxies in over 195 countries around the globe. Over 10 million residential IP pool makes Smartproxy one of the biggest players in proxy marker.
Exclusive Code – Save 15%
Get 15% off on smartproxy using this coupon code at checkout
Verified
10M+ proxies
195+ locations and 8 major cities
Cheaper than a lot of competitors
Fast and secure residential proxy servers
Unlimited connections with the backconnect node
User-friendly dashboard for proxy management
Dedicated 24/7 customer support
Proxy API to manage sub-users, subscriptions and plan limits
Smartproxy Pricing
The price of the plans is one of the main advantages of Smartproxy. They offer 7 different pricing plans: Micro, Starter, Regular, Advanced, Premius, Professional and Enterprise. The price starts from $75 on the Micro plan with 5GB included. Largest plans cost as little as $3/Gb. The Advanced plan price starts at $700 at just $7.00 unit price per GB. You will get 100 GB Traffic limit and 5 Proxy User limit and Whitelist IP Limit of 5.  The Premium plan price starts at $1,500 at just $6.00 unit price per GB. You will get 250 GB Traffic limit and 5 Proxy User limit and Whitelist IP Limit of 5. The Professional plan price starts at $2,500 at just $5.00 unit price per GB. You will get 500 GB Traffic limit and 5 Proxy User limit and Whitelist IP Limit of 5
Smartproxy offers a three-day money-back guarantee.
Start Using Smartproxy
Pool size
Smartproxy offers over 10 million residential IP addresses in more than 195 locations, including 8 major cities: New York, Los Angeles, Chicago, Houston, Miami, London, Berlin. Moscow.
Setup
You get a bunch of gateways that are filtered by a specific location or a random country's gateway.
You can use them both with account login credentials or whitelisted IPs. Also, there are two types of gateways. Sticky gateways, which have port ranges, they can hold the same IP for 10 minutes on one port. And a different type of gateways that has only one port and returns a different IP every time you hit it.
Authorization method
You can be authorized with your credentials (username and password) or whitelisted IPs. Whitelisted IPs number varies by your subscription plan.
Sub-users
Each plan gives you a number of sub-users you can create to manage separate projects and limit traffic usage. Largest plans have up to 100 sub-users, but you can buy more by contacting their team at any time.
Protocols
Smartproxy supports HTTP and HTTPS protocols.
Subnetworks
Residential proxies share no subnetwork, so are immune to bulk bans. Every residential IP address in the Smartproxy pool is unique. Smartproxy also has a separate data center proxy pool with 40,000 IP addresses in over 100 subnets.
Dashboard
Usage statistics
Credentials/Whitelist IP change
Renew plans
Live support chat
Easy gateway setup menu
Support
Smartproxy has a 24/7 live chat and support by email. The average response time is 5 minutes. Also, you can find answers to the most frequent questions at Smartproxy FAQ page.
Performance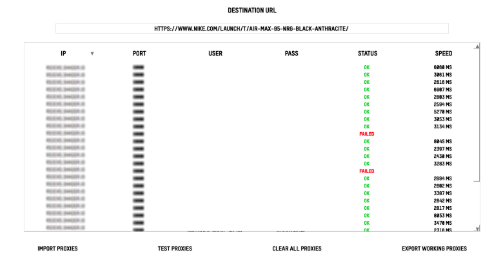 Start using Smartproxy
Average speed: 3.5 sec.
We checked the proxy speed using the free FOGLDN Proxy Tester. 3.5 seconds of average speed proves that Smartproxy has very fast residential proxies. They would probably be a top choice for a sneaker provider even though they had a few failed statuses.
Then we used our own testing script and tested the overall performance of Smartproxy's residential proxies. We gradually increased the number of concurrent connections and put the proxies on a huge load: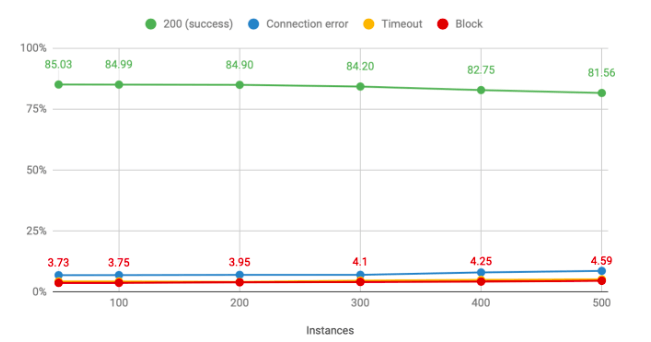 Start Using Smartproxy
Weather timeouts, blocks, neither of them increased whilst increasing concurrent connections. The success rate slightly dropped and connection errors barely increased. But overall, it had really great results.
Here you can see a success rate of the performance test results. We used a 300 concurrent connections' benchmark:
AliExpress – 83,70%
Amazon – 84,10%
Booking – 89,42%
Facebook – 85,15%
Google – 73,52%
Instagram – 88,54%
Wayfair – 89,12%
Yandex – 80,12%
Smartproxy has a really high success rate. Their results were fantastic and it's really hard to pinpoint a massive issue with them. Perhaps Google had the most issues, but they were quite small in comparison to other providers.
As you can see, the little blocks google had was the 503 error, which is Recaptcha block. If you have the necessary tools, you can go over them. There were a few errors on Amazon, Facebook, and Instagram, Yandex. But overall, the numbers are small.
Conclusions
Smartproxy has a massive network with over 10M IPs that keep on growing. They have one of the best customer support comparing to other residential providers. But most likely you won't even need it as the self-service and implementation were really easy.
It would be too good if there were no issues. Even though session-control exists through sticky gateways, there is no way to choose a custom time. The endpoint will provide you a static IP for up to 10 minutes. If no request or action is made for the 60s system will rotate IP automatically. Otherwise, it will rotate after 10 minutes or after you change the port/session ID. That could be an issue if you want to hold an IP for more than 10 minutes.
But let's not forget that our proxy test showed that Smartproxy's IPs performed really well and had an average speed of 3.5 seconds. It is definitely one of the best choices for sneaker scraping and the response times are better than the average compared to other residential providers.
You can get exclusive and latest Smartproxy offers and deals from our partner Couponx.com here.