iTop VPN Browser Review and Expert's Opinion
Ranked 52 out of 75
3.9

Speed

Ease of Use

Security

Pricing

Available Plans
30 Day Money Back Guarantee
1 Month @ $11.99/month
Server Strength
1800 Servers in 100 countries
iTop VPN Browser is an outstanding solution to all your privacy and security issues that you face regularly while using regular web browsers. It comes packed with a built-in VPN to give you an additional layer of security and privacy. And iTop VPN browser stands out to be a revolutionary thing for users who don't believe and do not use the specialized VPN to safeguard their privacy.
In this article we have analyzed the iTop VPN browser on some important aspects which are very essential to be considered before picking up any Web browser and made a iTop VPN Browser review, especially with a built-in VPN-based Web Browser.
Ease of Use
iTop VPN Browser can be easily handled by a novice user who does not have any familiarity with VPN-based Browsers. You get all the regular features of a Web browser along with easy accessibility to all the settings and options.
Get iTop VPN Browser
Speed
The speed of the iTop browser with an in-built VPN was impressive when connected to some specific servers but when we switched the servers that are not often used, the speed suddenly sloped down to 50%.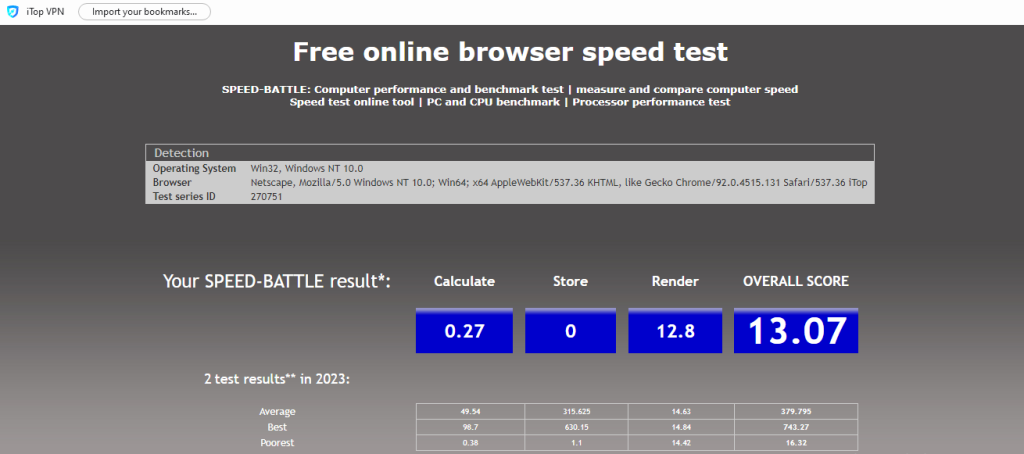 Security
This is the main USP of picking up this browser as it is specialized to give you the desired privacy and security with its high encryption standards. The three main security measures that come loaded with the iTop Browser are Anti-tracking, Ad blocking, and Anti Phishing which are pretty useful while browsing. But we observed that Ads were consistently appearing on the websites and its Ad Blocking feature was not performing so impressively.
DNS Leaks – iTop VPN Browser was able to hide your IP and location but failed to mask up the ISP's local DNS addresses
Anti-tracking – The Anti tracker blocked several unwanted trackers that can turn out to be threats to your privacy and security.
Anti-Phishing – iTop VPN browser successfully protected the browsing session by blocking malicious URLs and online threats.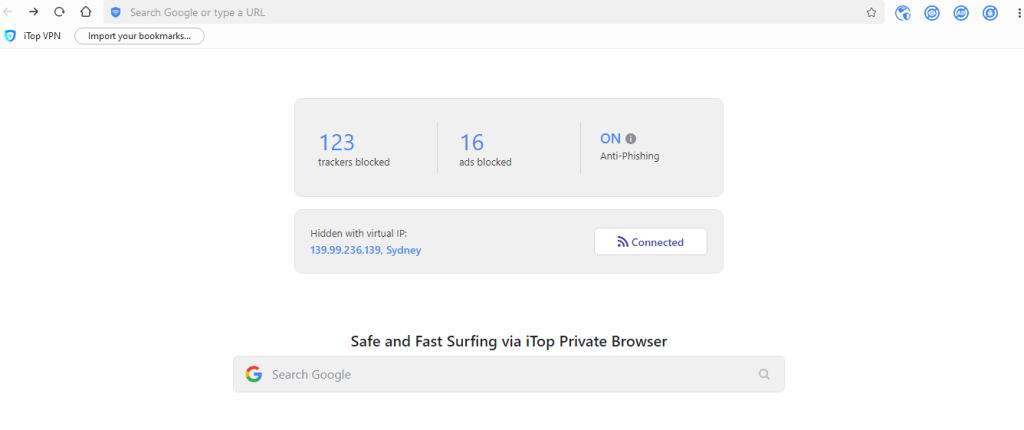 ---
---
Here you can clearly notice that iTop VPN Browser failed to hide the local DNS addresses of the ISP.
---

Compatibility
The iTop browser is compatible with most of the popular operating platforms including Windows, Mac, iOS, and Android. We tested it on all these platforms and noticed that it works smoothly on windows, Mac, and iOS except for some sluggishness in Android.
Pricing
The pricing offered by iTop VPN browser is still competitive in the market and it is giving a good fight to its rivals who do not offer a built-in VPN. If we ignore some of its minimal drawbacks then it can prove to be a good browser with additional security.
Pros & Cons
Pros
Anti tracking sageguards your privacy
Anti phishing hides all your online activities from getting leaked with any malicious intent
Auto trace shredder to clear down the cookies automatically
Fingerprint protection to add extra layer of security and privacy
Fast and speedy connection
Cons
iTop VPN browser was unable to hide the Local DNS address of the ISP.
No additional extensions are available till today for this Browser to enhance the functionality to the next level.
The Google search does not work properly and every search result is followed by the Captcha to see the results.
Conclusion
The final words about iTop VPN is that it is the best choice for the users who want to safeguard their privacy without using a dedicated VPN on their device.
Comparison

How does iTop VPN Browser match up to the competition?