While working with a VPN we might encounter some problems that lead to the failure of the VPN program. There can be several issues related to the functioning of the VPNs but we will discuss the two major issues which can create an obstacle in working with a VPN.
1. The VPN connection being rejected
This is the most common issue which we might encounter while dealing with a VPN connection. We usually open the client-side software that is responsible to connect to a VPN server. But when we try to do that, a 'VPN denied error' or 'VPN was rejected' error starts appearing on our screen. And we are not able to connect with the VPN services.
Why it happens?
There can be different reasons which might be possible for this problem. We will try to figure out some of these reasons to troubleshoot this problem.
Use of outdated VPN client software?

Usually, we do not upgrade or update the client-side VPN software as we think that, there is no need for an update and the VPN is working fine. But suddenly this problem hits and affects our connection to the VPN server.

Incorrect VPN protocol

Another reason which might possibly exist with the denied VPN connection problem is the use of the incorrect VPN protocol. Most VPN servers use various types of protocols to provide you with the best VPN connectivity.

Accessing a overloaded VPN server

There are a lot of servers that are used by your VPN service provider around the globe. Now if you are trying to access a server that is already overloaded by users, there are strong possible chances that the VPN server will reject or deny your connection.

Firewall blocking your connection

A firewall generally provides you security from external intrusions and ensures the security of your system but while using a VPN, the firewall can block your VPN connection because it believes it is an external interference in the security of the system.
Troubleshooting
First of all, use updated client-side VPN software so that it does not makes any issues while connecting with the VPN server. You can update the VPN software easily or can also upgrade to a newer version by downloading it from your official VPN website

Always use the appropriate protocol that is being recommended by your VPN service provider. Surely you can switch between multiple protocols at your convenience but always make sure to stick to the protocols that are recommended.

Before connecting to a VPN server what you can do, just go on the official website and try to find the servers that have a minimum load. The servers that are accessed by less number of users can provide you with better connectivity and quick response. You can choose the servers that are located in remote locations having a lesser population.

While dealing with a firewall, always allow your VPN software program in the firewall settings, so that it can easily bypass the firewall without any problems.
To do that in Windows 10, simply click on 'Start' and type 'Allow a program through windows firewall'.
Then go to the 'change settings' option and click on 'Allow another app'.
Browse and select your VPN software and click 'Ok'.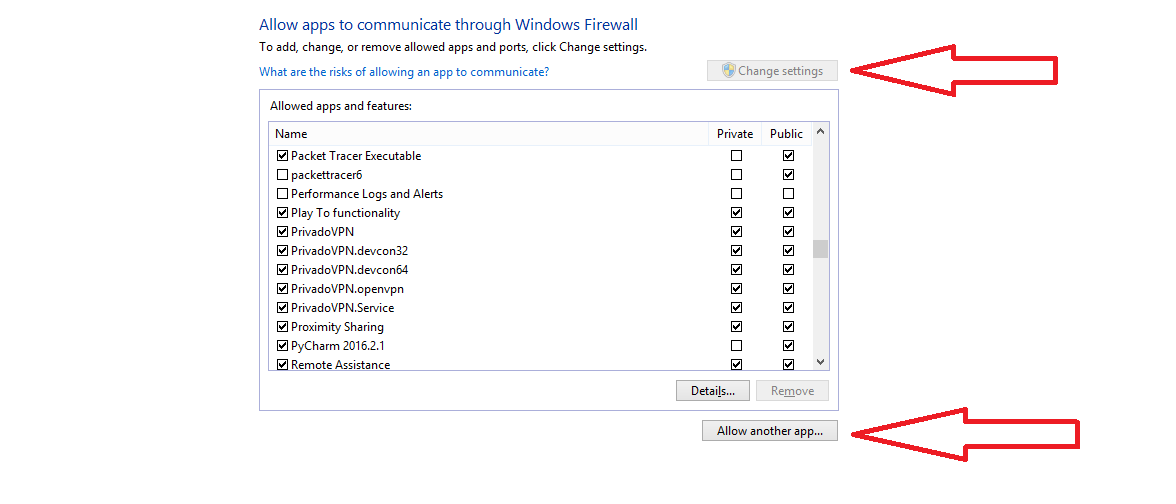 2. The acceptance of an unauthorized connection
The security of the VPNs can be compromised. VPN Servers are located in some of the countries which are not considered as transparent in terms of security and privacy. So, outbound VPN acceptance of unauthorized outbound VPN connections can be a threat to your privacy and security. Thus the information passing through the VPN server at your end can be compromised.
Troubleshooting
To deal up with this problem you need to enforce a good VPN policy.For that, you can implement the following ways to get your work done.
You need to update the blacklist of the known public VPN websites created by you.

Use personalized access lists to block VPN connections.

You can also implement stateful inspection with the help of your firewall to keep an eye on encrypted communications from abroad foreign locations.

Try to find out and use the public VPN applications that enable outbound VPN connections.

Deny all other connections which use different ports on your router except the ones which are frequently used such as port 80 or port 443. These ports are used for e-mail purposes. Other Ports can also be allowed which you feel are important for various purposes.
Conclusion
In this article, we had tried to troubleshoot the major issue 'Denied VPN connection' which causes problems while using a VPN connection. You can implement the above ways to get rid of this 'connection rejected' problem and can enjoy your VPN services.