Watch Olympics With Hulu From Anywhere Using These VPNs
Last edited: November 30, 2023Reading time: 3 minutes, 29 seconds
Here we give you some of the best VPNS which are not blocked by Hulu and are fast with plenty of servers in the US.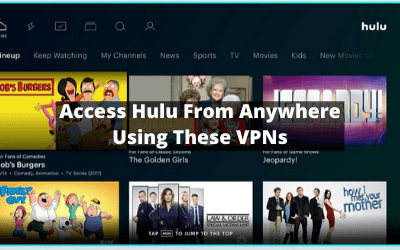 Hulu is one of the most popular streaming services filled with quality content.
Hulu may not be as popular as Netflix, but it has a VPN ban which is better than the Netflix ban.
Hence if you are living outside the US or Japan, you can't access their content.
Hulu's block against VPNs has only gotten tougher; hence you need to find the right VPN which works well with Hulu.
If you try to access Hulu through a VPN you get a message that you are trying to access Hulu through an anonymous proxy tool
Hence, not any regular VPN service would do. The best VPNs for Hulu have a few servers which could bypass the proxy ban
Works well with:
Here we bring you some of the best VPNs which help you access Hulu From Anywhere
Windscribe

The free version of windscribe provides 10GB per month.

Hide.me

If you are looking for a fast free VPN, Hide.me is the best option.

ProtonVPN

ProtonVPN is best if you need a bit more for browsing.

TunnelBear

TunnelBear is a well-known VPN app for
Android. It has a Chrome extension

PureVPN

PureVPN servers are outstanding and you have value for money!
Check our detail review
Here, we have provided the detailed reviews of each VPN with Features, What we Liked and What we don't liked. Check them and choose the best based on your requirement
1. Windscribe VPN

Windscribe is relatively new in the VPN market but one of the best VPN for Android. But you can earn extra 5GB data by sending tweets about the company, and when you invite a friend to sign up you will get extra 1GB data. Windscribe also gives the option of manually selecting the server you want to connect to.

Data limit: 10GB per month
Server locations: 60+
Number of servers: 400
No-logging policy: Yes
Maximum supported devices: Unlimited

What we like

10GB of data per month
Excellent privacy policy
Good streaming speed
Earn more data from completing the task

What we don't like

The app is not as simple as some others
No-kill switch

2. Hide.me

Hide.me is one of the safest free VPN services for android among all of them. It is also very easy to use and the only free VPN which has a kill switch on Android, and it comes with the no-logs policy.

Data limit: 10GB per month
Server locations: 70
Number of servers: 1700
No-logging policy: Yes
Maximum supported device: 1

What we like

Ad Free
Sleek & simple Android app
Built-in VPN kill switch
24/7 live chat feature

What we don't like

Slow international speed
Doesn't work with Netflix

3. Proton VPN

ProtonVPN's main advantage over all of the other free VPNs is that it comes with unlimited data. ProtonVPN's apps are easy to set up and use. Connections are secured with AES-256 encryption, and the Android app uses the most secure VPN protocol, OpenVPN. It also enforces a close to no-logs policy to further protect your anonymity.

Data limit: Unlimited
Server locations: 44
Number of servers: 628
No-logging policy: Yes
Maximum supported device: 1

What we like

No data limit
Only need an email address to get started
Good security practices
Well-designed and functional Android app.

What we don't like

Free customers are deprioritized during heavy load on the server

4. TunnelBear VPN

It is a very secure VPN service that uses 256-Bit Encryption and maintains a no-logs policy. The user interface is also clean, simple and very appealing. The free version of TunnelBear provides 500 MB of free data per month but you can get extra 1gb by sending tweets about the company.

Data limit: 500MB per month
Server locations: 20+
Number of servers: 4000
No-logging policy: Yes

What we like

Bypasses VPN blocks and deep packet inspection
Fast, user-friendly app
Strong encryption with AES 256-bit encryption

What we don't like

Only 500mb of data per month

5. PureVPN

Pure VPN has great reviews and is trusted by over a million users. PureVPN is loaded with loads of useful features and gives you decent performance. PureVPN offers absolute internet freedom with online privacy. Pure VPN has great reviews and is trusted by over a million users. It offers great geographical diversity as well so the speed is good.

Unlimited Bandwidth
Dedicated IP addresses
6500+ servers, 140+ countries
Split Tunneling
Access to all servers
P2P enabled

What we like

Really good features for the money paid
Apps and setup guides improve ease of use
Unblocks Netflix

What we don't like

Streaming servers should improve
No free trial
What is a VPN?
A Virtual Private Network is a connection that is used to add security and privacy to public and private networks like the internet and WiFi Hotspots. VPNs are mostly used by corporations to protect sensitive information. Using a personal VPN is becoming more popular nowadays. Privacy has been the biggest advantage with the VPN as the user's initial IP address is replaced with one from the VPN provider.
Why We Should Use VPN?
As you are all aware of the present situation, due to Covid-19 a lot of employees are working from home. In offices, everyone will be connected to a private network and it is very difficult to breach the data. Most of the companies use Firewalls to keep the data safe. If you are working from home and want to keep your data protected from hackers, you need to connect to a VPN. It helps you from hiding your IP address and helps you access the sites. A VPN also helps in accessing a lot of sites that are not available in your region. A VPN provides a secure online connection.